Looking for Cebu's Top Luxury Resorts? By definition, resort hotels are luxury facilities intended to provide the best hospitality service aside from providing special attractions like scenic views and beaches.
Cebu, an island located right at the heart of the Philippines, is a province endowed with great white sands and beaches. Because of that, most of the best resorts compliment their brand with great beachfronts. There are many good hotel resorts in the province, and the list below shows the best of them for this year.
[divider]
(1) Shangri-La Mactan Resort & Spa
Punta Engano Road, Lapu Lapu 6015, Philippines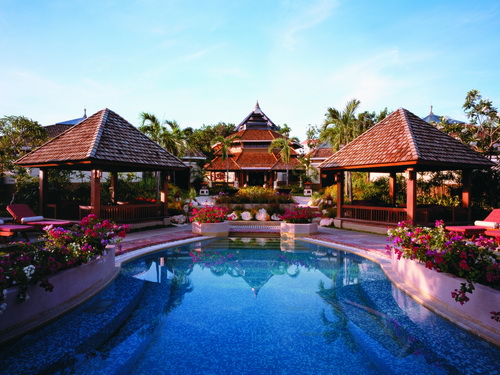 Located in Mactan Island is one of Cebu's biggest hotels as well as one of its best. That means not only do they excel in the sheer number of hotel rooms, but also how they provide their services despite the number of guests. The hotel staff are always ready to greet you with a smile and are ready to help you with your concerns.

The resort also features a lot of recreational activities for their guests, including the children, making it the most preferred place when you are celebrating something with the whole family. The Ocean View rooms are highly recommended as it gives you a clear view of the sea. The food are exceptional as well, especially those from Cowrie Cove. The internet connection is also incredibly fast – a feat that most Cebu hotels fail to accomplish.

The beachfront of the resort are also one of the best you'll find in Cebu. White sand beaches complemented with the sparkling blue waters will provide an even better experience here. But if you are not a fan of the beach, you can always swim on the pools too.
[divider]
(2) Abaca Boutique Resort
Punta Engano Road, Lapu Lapu, Philippines
If the Shangri-La shifts more to group parties and family gatherings, the Abaca focuses on solitude and private moments. At most, it can only accommodate 20 people at a time, but that's where its beauty lies. Because the staff only tends to a very few number of people, they can go out of their way to providing them the best service with some added bonus to boot.

This chic boutique resort sports three suites and three villas uniquely designed and conformed to suit your preferences. The food here is exceptional and the staff can even whip out some dishes for those important celebrations at no extra charge. All in all, their services is personalized and they will go out of their way to make you feel at home. The Abaca currently tops the chart as the best hotel in the country for romance – that definitely proves just how great their service is.
[divider]
Read Also : Top 15 Best Resorts with Swimming Pools and Beach in Cebu

(3) Plantation Bay Resort and Spa
Marigondon, Lapu Lapu 6015, Philippines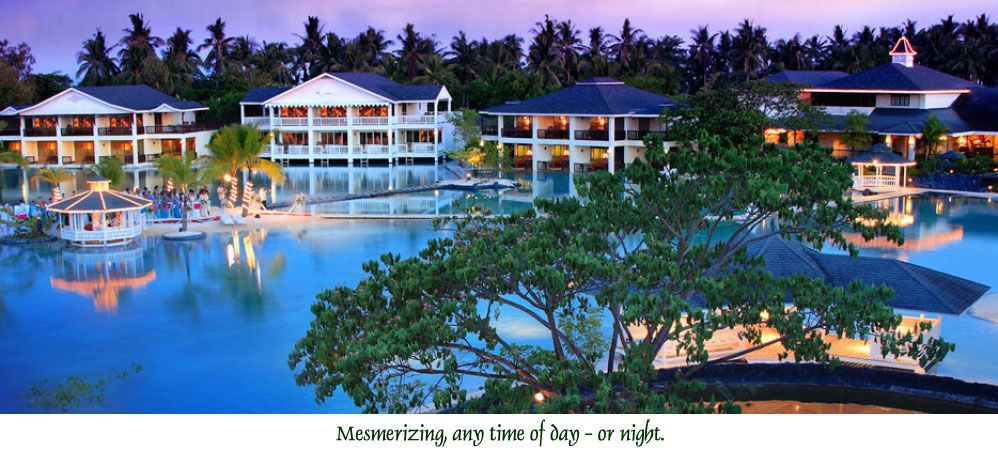 This large hotel resort sports a feature unique from the other resorts found in the province. The Plantation Bay takes pride in its man-made saltwater lagoons and the rooms directly annexed to it. In other words, if you booked the Water's Edge rooms for instance, you can directly jump into the lagoon from your room in seconds.
The Plantation Bay is also reputed for its excellent customer service, providing utmost care for their guests and tending to their concerns. Because of its saltwater lagoons and freshwater pools, the resort is perfect for family gatherings or corporate vacations and the like. Aside from the conventional rooms, they have specialized ones like villas and suites made to tender large groups of people.
[divider]
(4) The Granada Beach House
Cebu South Road | Boljoon, South Granada, Boljoon, Philippines
Located way south in Boljoon, Cebu, the Granada Beach House is the perfect place to be if you want some peace and quiet away from the city, and near enough to experience the beauty of nature itself. Staying in one of the eight bedrooms here grants you privacy, a 180-degree view of the sea and the perfect vantage point if you're up for some "butanding" adventures in Oslob.
The staff management is impeccable as well. The resort owners, Jaques and Kiera, take on a hands-on approach in managing their staff at providing the best service they could deliver – Jaques even does the cooking which is also excellent. There's a coral reef right on the premises of the resort, which makes it a walking distance scuba diving area and a bowling alley if you're up for some indoor sports.
[divider]
(5) Malapascua Exotic Island Dive & Beach Resort
Malapascua Island | P.O. Box 1200, 6000, Philippines
From the mainland we go to the smaller islands of the Cebu province. Malapascua is a remote island on the northern part of Cebu that is blessed not only with white sand beaches and great waters but great aquatic wildlife as well. In fact, the island is already synonymous with thresher sharks as most tourists come here to see a glimpse of these creatures.
The Exotic, as many would call it, is one of the resorts there that will offer you the chance to see these sharks. They are primarily a diving resort, but their rooms will provide you with more than enough comfort in your stay. Their services are great, as what you would expect from the hotels included in this list, and you are treated to a wide variety of dishes as well.
If you're planning on visiting Malapascua island, put this resort as your first choice.
[divider]
(6) JPark Island Resort & Waterpark Cebu
M.L Quezon Highway | Brgy. Maribago, Lapu Lapu 6015, Philippines
If you are to describe this hotel resort in a few words, it would have to be a "water ride galore". With their varied choices of themed pools and water slides, it's a definite pick for families and groups of friends who love joyrides and dipping in the water at the same time. They have the island pool, the amazon river, the "beach" pool, the wave rider, the open body and the tube water slide and for the truly adventurous, the adrenaline-pumping space bowl slide.
The rooms are great but the food can be a bit pricey. Their towel card system can also be a drag sometimes, but other than that, the resort is perfect for the whole family to unwind, relax and enjoy.
[divider]
(7) Sun Xi Mountain Retreat
Lepanto | Alegria, Philippines
Getting tired of beaches for your vacation travels? Then how about some recreational time in the mountains? Cebu also has the answer to that with Sun Xi Mountain Retreat. It's located in the mountains in Alegria, 2,200 feet above sea level, and gives you a perfect view of the Tañon Straight.
The rooms were made to provide utmost comfort to guests and paired with excellent service, you will be treated to a great stay here at Sun Xi. If you're looking for an escape route for this hot summer, picking this place would be a very great idea.
[divider]
(8) Crimson Resort and Spa Mactan
Seascapes Resort Town | Mactan Island, Lapu Lapu 6015, Philippines
Lapu-lapu City is nicknamed the Historic Resort City for a good reason. It's because of the various high-end hotel resorts that have taken residence in its shores like the Shangri-La, the Abaca and JPark. Another one of these world class resorts is the Crimson, a 6-hectare beach resort featuring 40 luxury villas and 250 guestrooms.

The first thing you'll notice when you enter this resort is its centralized shape and size. It is big, compared to the Shangri-La, and right at its center is its famed three tiered infinity pool, stretching out into the sea. The rooms are great, complete with amenities, well-maintained and comes with very fast WiFi connection as well. As for the food, Saffron Cafe holds a wide variety of culinary delectables that will have your mouth watering.
The services here is also on par with the best in the hospitality industry, making the Crimson truly a gem of a hotel resort.
[divider]
(9) Ocean Vida Beach & Dive Resort
Bounty Beach, 6013, Philippines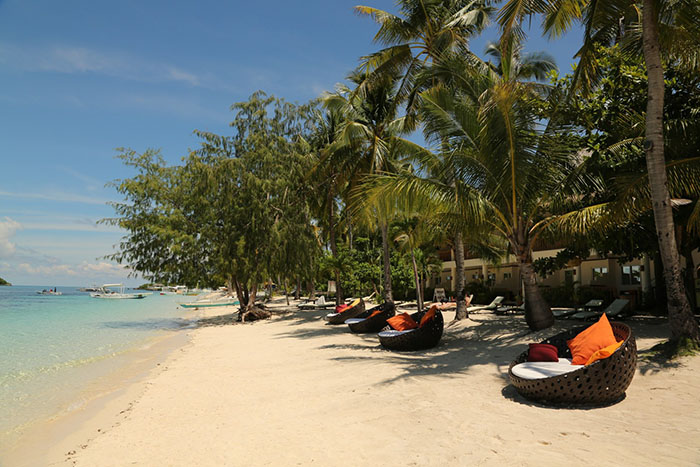 Going back to Malapascua Island, this is another great pick if you want to go thresher shark watching and diving. The rooms here are great, with three types to choose from and their services are definitely fitting for a luxury hotel. But apart from the basic amenities, this hotel shines in the outdoor acitivities it provides. Complemented by Malapascua's stunning aquatic beauty and white sand beaches, scuba diving on various diving spots here really takes the cake. And yes, let's not forget about the thresher sharks as well.
[divider]
(10) Marlin's Beach Resort
Roska Street | Talisay, Santa Fe, Philippines
From Malapascua, we go to another northern island, Bantayan. This island is also blessed with great beaches and one of the few resorts that are able to utilize this is the Marlin. The beachfront, a white sand beauty with great blue waters just a few feet from it, is the perfect place to do beach volleyball and other outdoor activities. You can also do some water activities like banana boat riding, water skiing, kayaking. You can also tour the whole Bantayan and its neighboring islands as well.


Have you been to one of these Cebu Luxury Resorts? Did you enjoy your stay like the others? These hotels strive to provide the best service complemented by their great locations and the attractions around them.