When you're thinking of traveling to the Philippines, make sure you don't miss traveling to Bohol or you'll be missing out on a lot of things. It's littered with nature filled wonders that anyone would surely love. Below is a list as to what you can do in Bohol.
Things to Do in Bohol
Activities
Danao Adventure Park

This is a great attraction for those thrill seekers. They can try the 500 meter zipline with a height of 200 meters or take the Plunge which is sort of a bungee jump that has been modified. There's also a Zorb Ball – a ride that will encase you in an inflated "ball" and then you are to be rolled down a hill. No need to worry about the dangers – you're oriented beforehand so that you'll be able to do the needed procedures so that the ride goes smoothly.
Island Hopping

Bohol is home to a lot of pristine islands with great beaches. Virgin Islands, for example, is a great destination for a tourist as it comes with great tasting local delicacies.
Diving Spots

One of the best diving spots in the world, the Balicasag island, is found in Bohol. Divers at heart can find great and diverse marine life in here along with the coral reefs. Have fun taking breathtaking scenarios underwater with your friends.
Whale and Dolphin Watching

Pamilacan Island is a marine sanctuary where you might find whales and dolphins among other marine wildlife. It's also a great place for diving and they have white beaches as well. The locals living in this area used to hunt these whales but these actions have been ceased due to the government law protecting the said marine wildlife in the area.
Wildlife Sanctuary in Corella

Bohol is also home to the second smallest primate in the world – the Philippine Tarsier. Though this is an endangered species (and a protected one at that), you can meet a lot of them in this wildlife sanctuary.
Mag-aso Falls

This waterfall is one the hidden gems of Bohol. It's a perfect place to take a cool dip while being surrounded by green foliage.
The Chocolate Hills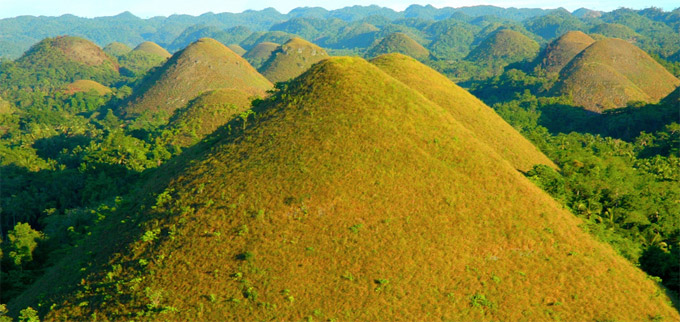 This is one of the main reasons why tourists come to Bohol. A group of more than a thousand hills that spread out across three towns that gradually change colors as the seasons come by. During summer the, plants covering them turn down, making them look like those popular chocolates – hershey's kisses.
Towns and Cities
Tagbilaran City is the capital of Bohol and it's also the commercial center of the province. This is also the main access point of Bohol, be it through plane or boat.
Loboc is the town of the famous Loboc Children's Choir. Their river cruise is also quite popular as you'll get to see the lush green environment as you ride through the river. You'll get to enjoy some entertainment like singing and eating some of Bohol's local delicacies.
Carmen is the place to go if you want a tour for the Chocolate Hills.
Corella is where you can find tarsiers. Yes, those pretty little monkeys.
Baclayon – if you're planning on visiting the Baclayon church, then you need to go here. You can then go to Pamilacan Island for whale and dolphin spotting after.
Bilar is the town where you can find the entrance to Rajah Sikatuna National Park, Bohol's largest nature reserve.
Anda is a coastal town found on the eastern part of Bohol. There's a public beach here and a diving spot as well.
REFERENCE:
http://itsmorefuninthephilippines.com/bohol/things-to-do/?page_id=3661
http://wikitravel.org/en/Bohol