Why you should know our Bohol Top Hotels? Bohol is an island province that sits right next to the tech hub center of the southern Philippines, Cebu.
Economically speaking, it's not yet on par with its neighbor province, but when it comes to ecotourism and other tourist attractions, it boasts having travel destinations that are even known to the whole world. It's for this reason why so many tourists, from locals to foreign ones, come to visit this wonderful province. And Hobecause of that, Bohol is also home to a number of top quality hotels, ready to serve these travelers.
Here's ESCooped's ten Bohol Top Hotels:
[divider]
(10) Coco White Beach Resort
6310 Basdio, Guindulman, Bohol

This particular hotel is a very good place to rest if you're planning to go on a diving trip – the diving spots are very near here and are very diverse when it comes to marine wildlife. Aside from that, the rooms offer a touch of the local life with the bungalow theme – paired with good food and good service. Lastly, the place offers a nice, relaxing view of the sea from your room.
[divider]
(9) Vest Pension House
Tamblot Extension Cogon District | Tagbilaran City, Bohol

This hotel received a lot of praises from the hard-to-impress TripAdvisor users for being a budget friendly hotel providing great service. It's near the airport so it's easy to access and they have touring assistance, so you can easily ask them for a tour around Bohol's popular tourist destinations. It's got free Wi-fi and other amenities available for you so it pretty much covers the basic necessities to be considered a good place to sleep in.
[divider]
(8) Darunday Manor
22 J.A. Clarin Street, Tagbilaran City

Just a 10-15 minute ride from the airport or the docks, Darunday Manor is a great place to stay as it sits right at the center of Tagbilaran City. It's a great starting point for those who want to go touring around Bohol – well, it's mostly the reason why people come here. The service is great as well as the rooms – it's themed to be eco-friendly with all the wooden furnitures, ethnic handiworks and paintings from various local artists. All in all, this pension house turned hotel is a great place that gives you an idea of the Boholano cultural lifestyle.
[divider]
(7) Bituon Beach Resort
Basdio, Guindulman, Bohol

Our second diving resort on the list, Bituon Beach Resort offers a great ocean view for its clients as it's placed on the edge of a cliff overlooking the sea. Below it is a good diving spot which you can easily access. One of the downsides here however, is that diving is self rigged. You ready your own gears, wash them and put them on by yourself – though you could ask for assistance for carrying your equipments down the stairs and near into the waters.
Hotel-wise, the place is alright. The rooms are bungalow themed with no AC which can be quite frustrating – however, you're inclined to stay outside here than indoors. Your phone won't get any signals here too which is a another downside. Aside from those, they've got all the bases covered.
[divider]
(6) Ocean Suites Boutique Hotel Bohol
Blood Compact Monument, East Tagbilaran Road, Tagbilaran City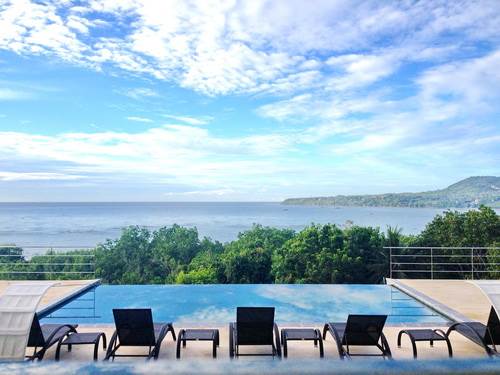 This boutique hotel sits quite nicely in adjacent to the Blood Compact Monument which is a tourist destination as well. Compared to the previous ones, Ocean Suites would be what you call the "classy" hotel. It serves everything in style – the rooms, the food and the service. It comes, however, with a giant increase in the price tag for booking in.
You can make use of their touring services to tour around Bohol or go to their beach property in Pamilacan for a dip or to watch dolphins and whales. Or if you want, you can just stay in your room while watching the beautiful view from your window. Overall, every penny you spent on booking this hotel is totally worth it.
[divider]
(5) La Estrella Beach Resort
Cabilao, Bohol

This is another terrific beach resort that offers its guests with the complete Bohol experience. That rooms are built using traditional materials like wood and bamboos – they're just like how the houses of Bohol are built. These houses surrounded with patches of green and nature so it has a very cool and refreshing atmosphere. The best part is that this establishment sits right in a small island almost surrounded by coral reefs – this is practically a diver's heaven.]
[divider]
(4) Nuts Huts Resort
Gotozon, Loboc, Bohol

Going down the Loboc River wouldn't be complete without you booking at this hotel. Nuts Huts is a great hotel with, yet again, rooms that are based from the traditional houses in Bohol. They come complete with great food and staff that will also help you on planning your trips. The resort is the perfect starting point for your adventures in Loboc.
[divider]
(3) Isla Hayahay
Brgy. Lomboy, Pangangan Island, Calape, Bohol

Great and sumptuous meals, great rooms, great services and a great, scenic place in a pristine island to spend the night in – that pretty much sums it all for Isla Hayahay. As a hotel with the name "Hayahay" which is the local dialect for "Comfort", it basically lives up to its name. It can be quite a bit pricey compared to the other hotels that you'll find in Bohol, but hey, as long as they can back it all up with terrific service, can we complain?
[divider]
(2) Anda White Beach Resort
Brgy. Bacong Sitio Dagohoy, Anda, Bohol

A white beach is definitely a good beach. Put up a hotel resort beside it and it can easily be an escapade for travelers both local and foreign. Anda White Beach Resort fits every last bit of the bill. The rooms are come fully equipped with the needed amenities with a picturesque pool right outside its front yard facing the sea.
Anda also features a lot of outdoor activities. You can go watch tarsiers on a touring trip or watch the corals by going on a diving session. Or you can just swim around the pool or the white sand beach and have a good time with your companions.
[divider]
(1) The Peacock Garden
Upper Laya, Baclayon, Bohol

Boutique resorts are those hotels that can give you a sense of beauty in solidarity. This one never fails to deliver that. The Peacock Garden is located in a rather unique place for a resort – far from the beach and somewhat out of reach. However, this is definitely a destination that you'd seek out if you want to be catered with utmost care.
The rooms are wide, completely European themed and of course, comes complete with amenities. The food is definitely something one should look forward to. And the customer service completes this perfect package – they do it with utmost professionalism. The Peacock Garden gets the top spot for this one and they deserve it.
Have you already picked some of our Bohol Top Hotels?
Comment here below and let us know!