Why Bohol Top Resorts? The Philippines is blessed with great coastlines and beaches, and they're not limited to Boracay. Bohol, for instance has many pristine and beautiful beaches, be it on the mainland or in the little islands inside its territory. TripAdvisor's long list of beach resorts can prove that fact.
Below is the ones that made it into the list of 10 Bohol Top Resorts.
Eskaya Beach Resort and Spa

Panglao Island is one of the top places to visit in Bohol. For that reason, many hotel resorts have been established here – to cater the needs of the ever growing number of tourists. One of these resorts is Eskaya and it's one terrific place to stay in.
It might be a bit pricey here but it's totally worth it. The panoramic view of the sea from the infinity pool is a must-see, along with its dining services that allows you to eat under the stars, literally. They also have tours and cruises and booking a room also includes a bunch other features like airport/seaport transfers and massage spas. And of course, since it's located in Panglao Island, you can expect that it has diving as one of its amenities too.
Polaris Beach and Dive Resort

This particular resort is situated in Cabilao Island – another great island and diving spot just like Panglao. The Marine Park is where you need to go if you want to go scuba diving, but you need to pay a fee first because for the preservation of the Marine Park – it's pretty cheap though so it'll not hurt your wallet much. Polaris has everything that a hotel needs to have so you are ensured a good comfortable rest when booking here – most of the rooms are air conditioned so you won't feel hot despite the weather.
They even have rooms built like treehouses beside coconut trees. They give a pretty good ambience and view – and despite their traditional looks, they still retain the components of a hotel room. Their WiFi sginal is good, which is quite a rarity when staying in a hotel in the Philippines. Lastly, compared to the previous one, their booking and scuba diving fees are relatively cheap – pretty good for those traveling on a budget.
Flower Garden Resort

The place is in a secluded place in Panglao Island, but make no mistake, it's still as great a s the other ones. This is one of the hotels that doesn't have a diving feature, however. The hotel also doesn't have a beachfront (it does have a large pool), however, if the guest want, the beach is just walking distance from the establishment.
The staff are pretty attentive and they offer good services. The rooms are neat and spacey and it's basic amenities have been covered. They allow excursions to Bohol's famous landmarks like the Loboc River, Chocolate Hills and more. The rates are affordable so you don't have to spend much here.
Bohol Sea Resort

Despite the name, the resort is a European themed one and Germans would definitely find this place a home away from home – that doesn't mean that they don't cater to other nationalities though. This is another resort that doesn't have a beachfront (it's a 2km walk/ride to Alona Beach) but it does feature diving as one of its activities. It's rates are affordable and they do great service however, don't expect something that a 5 star class hotel service from them, because they won't – if you're looking for one then book in one.
They offer wi-fi it's not that great. The staff are friendly and very accommodating but still lacking in some points. Lastly, it's a quiet place to stay in so if you're looking for solitude away from the noise, then the place is perfect for you.
Isla Hayahay

This hotel is located in Pangangan Island, one of the smaller islands in Bohol (it's actually connected to the main island via causeway). The resort rates are pretty affordable, considering the service it gives. The rooms are great and comes with air-conditioning which is really great because of the hot weather nowadays. However, the fun part is in the packaged activities, just like the what the other Bohol resorts has to offer.
They have diving (on Cabilao Island) and snorkeling (free with your own equipment) features and also allow their guests to do kayaking – they can rent a kayak from the establishment. They can also do Island Hopping, dolphin watching and of course, the countryside tour of Bohol. As for the food, you are served with a variety of gastronomic seafood. They also have a wide variety of snacks and beverages, along with tea and coffees.
Bellevue Resort Bohol

Now let's go back to Panglao Island with Bellevue Resort. Facility-wise, the place is definitely on the class of a top class hotel. Their dining services on the other hand, could need some improvement – their food was too pricey for the quality. They come with diving and island hopping features as well as the tour to some of the popular destination spots of Bohol – they offer other options in their promotions too like massages and more.
Golden Palm Resort

A few walks from Alona Beach sits the resort the got the top 4 place for this list. The online information that this place has is practically limited but here's some proof as to how great this place is. Golden Palm once received the 2013 award for excellence from TripAdvisor. It also has the 2014 Traveler's Choice, making it one of the most visited resorts by TripAdvisor users.
From their reviews, the place is great with professional staffs always looking out for you. The facilities are up to par with the other great hotels and the food was simply amazing.
Amarela Resort

Our top 3 is another Panglao Island resort, and it sits here for good reason. The whole establishment is like a meeting with modern and nature. Great houses with climbing vines and green all over, the place pretty much emphasizes being one with nature – it even has a pavilion that grants access to a panoramic view of the surroundings and the sea.
It offers almost the same features as the other hotels (diving, snorkeling and touring). The rooms are perfect and the food is simply delish. It might be a bit pricey here, but the excellent service they provide easily makes up for it and more.
Anda White Beach Resort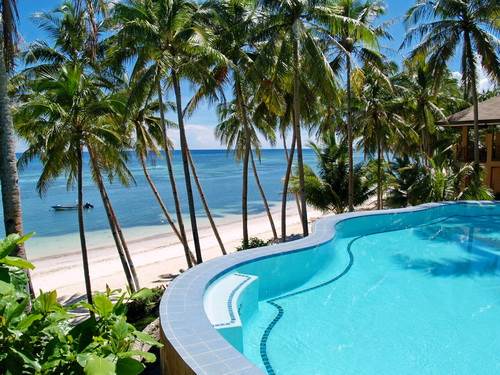 This one isn't located in Panglao – in fact, it's sits on the opposite side of the mainland Bohol. Anda White Beach resort, as the name implies, is a resort that offers white sandy beaches for its guests. As what you would normally get with a great hotel, the staff are very accommodating and professional. The facilities are great and is definitely worth it despite being a bit pricey.
It also has a large list of activities that you can attend to, like outdoor sports (beach volleyball), diving and more.
Amorita Resort

Our top one sits in Panglao Island again! Amorita resort is a 5-class resort, so expect some heavy bills. However, its service definitely is worth every penny you've paid for. It has a beachfront which means you can instantly go take a dip yourself in Bohol's white sand beach. The view on the upper floors is simply amazing so it's highly recommended that you book on the upper rooms.
The service, the facilities, the exhilarating, panoramic view, the activities – everything falls into place here in Amorita. And did I forget to mention how good the food is? They feature Boholano cuisines so you get a taste of the local gastronomic delight here too. They also have a Bohol By Night Tour that offers European dishes as well.
Have you already pick some of our Bohol Top Resorts? Well if we missed some, comment here below and let us know!
Reference
http://www.tripadvisor.com.ph/Hotels-g1673720-Bohol_Province_Visayas-Hotels.html