Do you wanna know what Siquijor top resorts to try? Siquijor is an island province that has been dubbed as mysterious and an abode for the supernatural. It's also a place where witchcraft are rumored exist. Despite the rumors however, remains a simple fact – it's a place booming with natural beauty. The whole island is covered green and the seas surrounding it serves as a covering for its bountiful marine ecosystem.
Simply put, this island is a natural paradise. It's one of the reasons why many tourists, both foreign and local ones, would go out of their way just so they could catch a glimpse of the vistas found in Siquijor. The fact that there are quite a number of resorts built throughout the island should be proof enough. Here's TripAdvisor's list of the top resorts in Siquijor.
We have listed some of our Siquijor Top Resorts
Coco Grove Beach Resort

This is a resort that's well received by TripAdvisor reviewers – these reviewers are pretty hard to please mind you. That's already proof enough as to how good the place is. The rooms are well maintained, though you'll need to pick specific rooms if you want ones that have air conditioning in them. The staff are very attentive, and the food is great.
They have a good list of activities lined up for you including the tour around the main island as well as Apo island. The place is a great diving spot. It can be quite costly, but every penny is definitely worth spending when you spend it here.
Coral Cay Resort

This resort offers the same thing as CoCo Grove, well, almost. Again, you'll need to pick rooms here depending on whether you want one with an AC or not. The food the serve is alright, and their services aren't lacking. You can rent dune buggies to take a tour around the island though it can be a bit pricey. The beach is also great, however, they have a swimming pool for you to use if you're not in the mood to soak in saltwater.
Casa de Playa Resort

This a great place to stay – being a resort that sits right next to a beach really has its perks. Aside from the good location (and the great beachfront view), customer service is also something held in high regard here. They have a lot of activities in store for you like diving or island touring. What caught my eye though was the beach swing that's nestled just above the water when the tide goes high.
Kalachuchi Beach Resort

The Kalachuchi is a BnB (Bed and Breakfast) resort that offers their guests with great rooms and a great view to boot. The place is excellent and their room houses are also well maintained. The food features a mixture of Asian and European along with the local delicacies to complete the set. It's also one of the few resorts out there are pet friendly – so of course you're allowed to bring those little ones on the trip here too.
Activities include the great swimming pool, indoor pool (billiards) and the outdoor chess – the pieces are humongous and feature Filipino cultural designs.  
The Firefly Cove Beach Resort

Another BnB resort that made up to our list is this one. First of all, this is the perfect place when it comes to having quality time alone. The views from the rooms are perfect – you're on an elevated position on a beachfront with the sinking down the horizon in front of you.
The beach itself is not that good – if you want to lie down in a sandy one that is. But the good thing about it is that it can be a pretty good diving spot. The food is great, as expected of a great resort and the owner is a pretty interesting guy who goes out of his way to greet and befriends his guests. I'd say that's some good customer service right there.
Salamangka Beach and Dive Resort

As the name implies, this great place is also a diving resort. Salamangka has great rooms to offer their guests with – as one of their testimonials on their site from one of their guests, the place was paradise. The pool placed facing towards the sea was a perfect location for it. Their diving activities were simply terrific – the diving spots were teeming with marine wildlife.
The food they serve as are sumptuous as well, but I guess you already knew that. Overall, you won't find a reason why you won't book here.
Royal Cliff Resort

For a budget resort, this place is a treat. Thought food can be a bit pricey, but nevertheless, delicious. Their diving spot might seem a bit lacking, but the view from the restaurant to the sea is simply stunning. The rooms are great but you might need to pick that has the features suited to you.
Infinity Heights Resort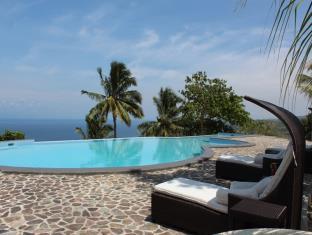 One of the reasons why the reviewers absolutely loves this place is its location – it's placed on a pretty unique and remote place. It's on top of a mountain. The place is totally secluded and only offers three luxury cottages. Even if the place is fully booked, it would feel like you're all alone in that hidden paradise.
They have a bunch of features in store for their guests. Their infinity pool for instance, is perfectly placed, overlooking the sea from afar. And being placed on an elevated landform, you can surely expect great, stunning views of the surroundings. The food and services are overall good so there's really nothing you could ask for – unless you want to take a dip in a beach then you might want to book in a resort that's much closer to it.
Have we missed anything about Siquijor Top Resorts? Feel free to suggest one and comment here below.
Reference
http://www.tripadvisor.com.ph/Hotels-g664445-Siquijor_Island_Visayas-Hotels.html