Answer quickly, what's the one thing that you can't live without? That's right, your smartphone. A small device that fits in your pocket and basically maps out your life and interactions on a daily basis with the help  of applications, or apps. With most apps being used for entertainment, people forget that there are many apps out there that actually help you increase your productivity!
Whether you're a procrastinator that needs help focusing on a task, or a busybody looking to make everything more efficient, here are eight startup productivity apps that will definitely help you do more and be more.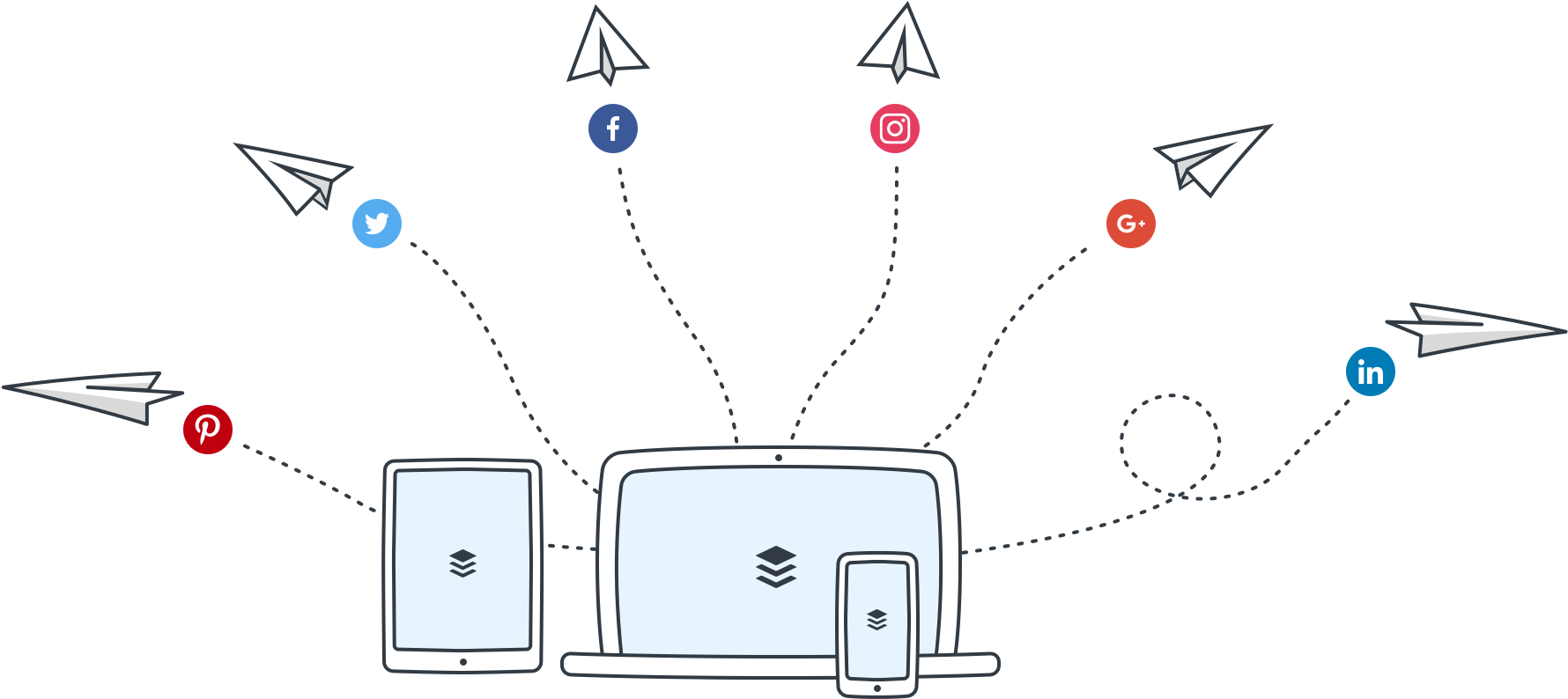 These days, everyone uses social media, from your best friend to your grandma's cat. It's just the easiest way to connect with people and be seen. However, with myriad of popular sites now, it's easy to waste a lot of time unknowingly by just posting updates on every one of your profiles. Introducing Buffer, the one app to rule all the social media platforms. This amazing app takes all your  social media profiles and allows you to publish status updates, pictures, and content on all your platforms all from within Buffer, saving hours of your precious time. Buffer even lets you schedule your posts so you just have to sit down and queue up all your posts for the day or week in an hour or two, so you can relax and let it post for you at certain times and never worry about wasting time by manually posting updates. PPC Ian, a busy man who values his time a lot, says "Buffer allows me to manage my 25 profiles in one place. Whether on my laptop or my iPhone, Buffer is seamless and just plain easy. The platform saves me huge time and makes the impossible finally possible. As my portfolio of social profiles grows, I know I can count on Buffer for scale."

Wherever you are, and no matter what you're doing, you're always going to be thinking about something. Whether it's movies you want to watch or business ideas you want to try out, you're going to want to keep track of what you're thinking if you don't want to forget. Evernote helps you organize your thoughts and jot down your ideas, wherever you are. If you can't put an idea into words, Evernote allows you to attach pictures, voice recordings, and drawings to your notes, just so you can quickly capture what you're thinking when you're on the go. Evernote also lets you sync your notes to the cloud, allowing you to both write and review notes on whatever devices you use.
Encoding paper documents digitally has always been a pain, requiring stationary scanners and programs in order to accurately transfer paper documents to PDF or DOC files. However, with the technology available at your fingertips, the makers of Evernote have come up with a way to easily and accurately encode paper docs with nothing but the camera on the back of your smartphone. Scannable lets you easily scan and store receipts, business cards, documents, and even whiteboards! The images you capture using Scannable are instantly recognized and transformed into digital documents and easily sent via email or message, exported, and stored to your Evernote account. Carry all the documents you need in your pocket instead of in your suitcase.

One of the biggest reasons to carry a smartphone around is the camera. Before, you used to need a separate digital camera, but now, everything you need to take a picture is always in your pocket. Although it's easier to take pictures now, it's still a struggle to make them look decent — let alone nice enough to post on Instagram — with just the basic editing tools available on your phone. Enter Snapseed, an easy to use app with the functionalities of Photoshop in the palm of your hand. With dozens of tools to make your next selfie look like a studio photo, Snapseed is an app that you will always rely on to take your Instagram game to the next level.

Today, you need a username and a password for everything: your social media accounts, email accounts, bank accounts, billing accounts, and so much more. It's not uncommon to end up with dozens upon dozens of accounts that you use on a regular basis. With each and every one of these accounts, a key issue is security. It's almost essential to have different passwords for every one of your accounts just in case you become the unfortunate victim of a hacker. The drawback to this is the trouble you'll have memorizing and remembering every single one of your passwords. Lastpass is true to its name as the "last password you'll ever need." Now, all you really have to remember is the password to your secure Lastpass account, and you can easily check every one of your accounts passwords, freeing up your mind and memory for more important things, like actually using all your accounts.

Arguably the most productivity-enhancing app on this list, Workflow takes the apps you already have on your phone and coordinates them in a series of actions. Workflow takes a process that you would normally do manually with a bunch of apps, and automates it for you in a single workflow. That may not sound like much, but the time you save from just this one app will be tremendous. Think of Workflow as a little "boss" app for all the other "employee" apps on your phone. Instead of searching Google for an event, looking for the venue on Google Maps, then calling an Uber, just use a one-tap workflow and  you'll automatically call an Uber to the event. Instead of accessing a webpage, turning it into a PDF file, saving it to Dropbox, then sending it via email, just use Workflow! The possibilities are truly endless, and if you're too lazy to make your own workflows, you can use those that other people have made. Alex Heath from cultofmac.com attests that "Workflow lets you create complex actions easier than Automator on the Mac ever could."

If Workflow lets you work easier, Freedom lets you work harder. Smartphones may be powerful tools for productivity, but they can also hinder you greatly, with all the distractions from social media, entertainment apps, news apps, and so on. Freedom allows you to be "free" of these distractions for periods of time by "locking up" these apps and websites until the timer you set runs out. Freedom helps your self-control immensely, and expectedly, increases your productivity tenfold.

In the whirlwind of everyday life, it's important to slow down sometimes and quiet your mind. Although you may be busy, it's easy to burn out if you try to take everything head on. It's easy to get distracted and exhausted by everything that has to be done, sometimes making you needlessly frantic, and therefore actually achieving less. The last seven apps increase the productivity of your phone, but Headspace increases the productivity of your mind. You may not know anything about meditation, but Headspace's Andy talks you through it for ten minutes a day. Taking a little bit of time out of your busy schedule to ensure that you're mentally prepared and focused for the tasks ahead is definitely one of the best things you can do in today's fast paced world. Maja Huse, a long time user of Headspace, says " I have noticed myself slowly growing calmer and more relaxed, and I can physically feel myself tensing up and getting jittery (not to mention crankier) if I skip my sessions for more than a day or two. It has made me a bit more focused, a bit more positive, and a little bit less likely to get hung up on in the stupid and petty stuff that we all have to deal with in our day-to-day lives."
With all these apps, you'll look at your phone in a new light. Instead of a distraction, you'll see a helping hand. Instead of a tool, you'll see a partner. Instead of being chained down, you'll be free. Now, you may still be sceptical, and that's natural. However, I challenge you to use one — just one — of these apps and see if it doesn't  make your life easier and more productive.
References:
BUFFER REVIEW: I LOVE BUFFER
App review: Headspace
Workflow pushes the limits of how powerful iOS can be