Speaking engagements allow the audience to learn. The speaker motivates the audience through their experiences (usually the hard ones and how they got out from it) hence, called a motivational speaker.
According to sokanu, a motivational speaker, also known as an inspirational speaker, is someone who delivers speeches with the intention of motivating or inspiring the people in the audience.
One thing that is common to all motivational speakers is that, they hit their audiences more on the mental level. They bring their audience to a whole new perspective or mindset. Motivational speakers tend to give advice that are "proven and tested" in their life.
There are different kinds of motivational speakers depending on their expertise. Like in Personal Development, these speakers give positive outlook in life.  They are invited to motivate those emotionally drained people. In the field of Business, these speakers are invited to share essential company strategies. These are by far the top ten business motivational speakers:
Robert Kiyosaki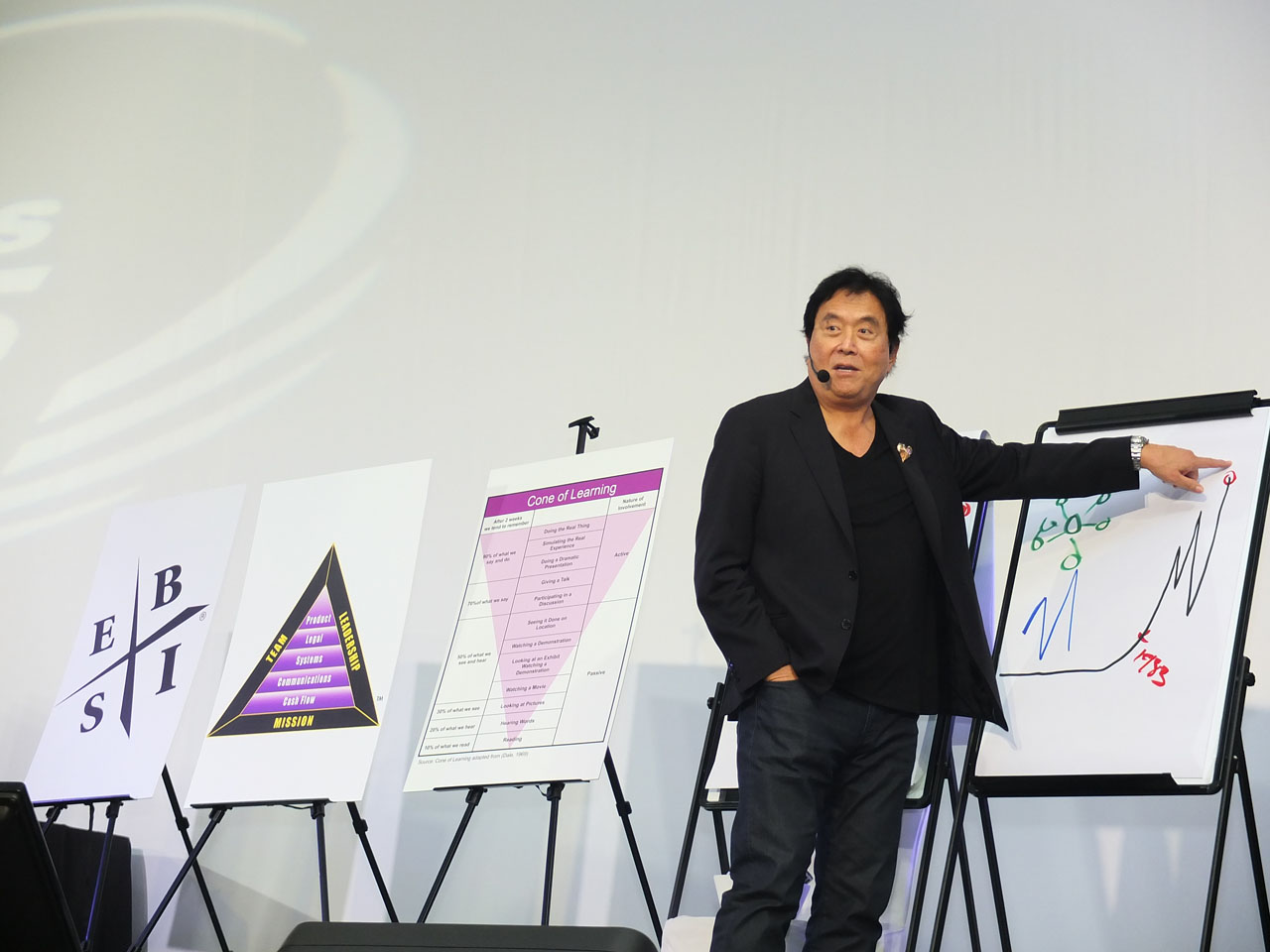 "If you want to be an employee, go to school. If you want to be rich, you don't need school."
Robert Toru Kiyosaki is best known as the author of Rich Dad Poor Dad.  He changed millions of people's mindset about money. He also despise the school system saying that school did not teach the people how to be rich but it taught the road to employment.
According to Rich Dad Coach, he will:
Build a personalized financial and CASHFLOW plan
Discover your Mission, Passion and Purpose so you enjoy executing your CASHFLOW plan
Create an individual strategy to become secure, comfortable, and rich
Map out where you want to go financially and what you'll need to do to get there
Personalize an investment plan to help you into the "B" and "I" quadrants
Finally set your plan in motion
Famous Books:

Rich Dad Poor Dad (1997)
The Cashflow Quadrant (1998)
Rich Dad's Increase Your Financial IQ: Get Smarter With Your Money (2008)
Conspiracy of the Rich: The 8 New Rules of Money, and Unfair Advantage(2009)
Business of the 21st Century (2010)
Jim Rohn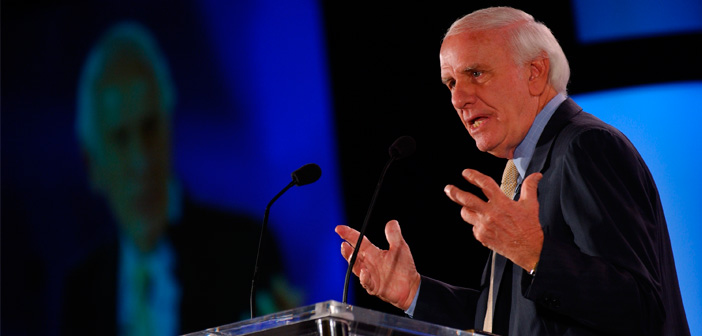 "If you don't design your own life plan, chances are you'll fall into someone else's plan. And guess what they have planned for you? Not much."
Emanuel James "Jim" Rohn is an entrepreneur and motivational speaker. His speaking career began when he went to California, in Beverly Hills, and was told by a friend to tell his success story, which he thn called "Idaho Farm Boy Makes It to Beverly Hills."
Famous Books
:
The Treasury of Quotes (1994)
The Five Major Pieces to the Life Puzzle (1991)
Twelve Pillars (2005)
The Seasons of Life (1981)
7 Strategies for Wealth & Happiness: Power Ideas From America's Foremost Business Philosopher (1985)
Richard Branson
"Business opportunities are like buses, there's always another one coming."
Richard Charles Nicholas Branson is an English business magnate and a invenstor. He is the co-founder of the Virgin Group, a British multinational branded venture capital conglomerate, which controls more than 400 companies.
Famous Books:
Losing My Virginity (1998)
Screw It, Let's Do It (2006)
Business Stripped Bare: Adventures of A Global Entrepreneur (2008)
Like a Virgin: Secrets They Won't Teach You At Business School (2012)
Warren Buffet
"It's far better to buy a wonderful company at a fair price than a fair company at a wonderful price."
Warren Edward Buffett is an American business magnate. He is considered by some to be one of the most successful investors in the world. He is known to be the CEO of Berkshire Hathaway.
Famous Books:
The Essays of Warren Buffett: Lessons for Investors and Managers (1998)
50 Berkshire Hathaway Letters to Shareholders 1965-2014 (2015)
Thoughts of Chairman Buffett (1998)
Warren Buffett Has Spoken: The Question, Who Is Listening?(2004)
Back to School: Question And Answer Sessions With Business Students (2008)
Websites:
Tony Robbins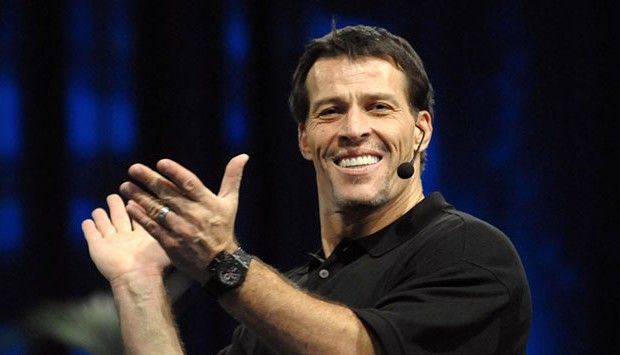 "If you want to be successful, find someone who has achieved the results you want and copy what they do and you'll achieve the same results."
Tony Robbins is a businessman and author. He is known because of his infomercials and self-help books. Robbins career began when he was promoting seminars for Jim Rohn.
Famous Books:
MONEY Master the Game (2014)
Unlimited Power (1986)
Awaken The Giant Within (1991)
Unleash the Power Within: Personal Coaching to Transform Your Life (1999)
Notes from a friend (1995)
Jeff Bezos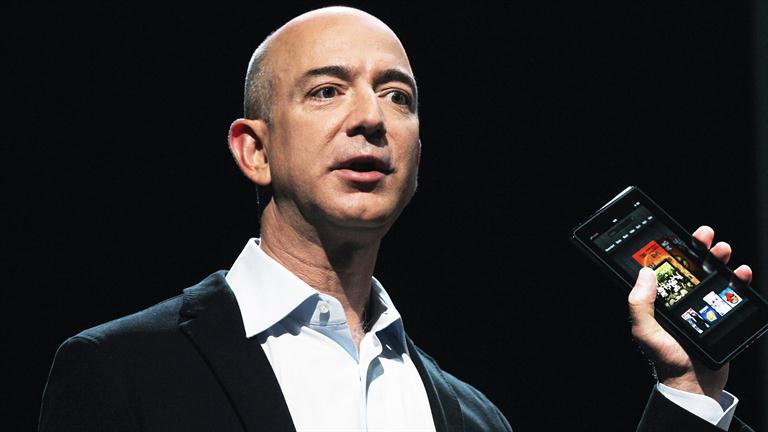 "If you do build a great experience, customers tell each other about that. Word of mouth is very powerful."
Jeff Bezos
is a technology entrepreneur and investor.  He is known to be the founder of the and CEO of
Amazon.com
, one of the world's largest online shopping retail. He also owned the Bezos Expenditions, which manages a lot of business investments like buying The Washington Post, and investing in Google.
Patty Mccord
Patty McCord
served in Netflix, Inc. as Chief Talent Officer and Vice-President of Human Resource (still in Netflix) for some time (since 1998).  She decide to leave Netflix for good. Another than Netflix, she has been with human resource industry with high-tech companies for quite some time. With more than 15 years' of experience in Human Resources, she focuses on her speaking career.
In
The Future of Work
, which is part of her keynotes as a speaker, she explains why the idea of a "permanent employee" is no longer a realistic prospect, and she encourages her audiences to look to the future.
Joan Kuhl
JOAN KUHL is an international speaker, consultant on career and leadership trends, and author. She is the Founder and President of Why Millennials Matter. Through this, she encourages inviduals expecially the millennials to cultivate  confidence and attain their highest potential in their career.  Prior to Why Millennials Matter, Joan worked in sales, marketing, organizational effectiveness, and training & development for global healthcare organizations.
Sallie Krawcheck
Sallie L. Krawcheck  is the CEO and Co-Founder of Ellevest, a digital advisor for women that helps to empower women, She is owner and Chair of Ellevate Network. Prior to this, she was the president of the Global Wealth & Investment Management division of Bank of America. She has been known as one of the most senior women on Wall Street. She invests her time in advising start-ups for a smart business.
Sarah Blakely
 "I've always leaned toward a feminine, funky style, even in business settings. I used to paint my nails blue in 1993, before it was mainstream."
 Sara Blakely is  businessperson and founder of Spanx, an American intimate apparel company with pants and leggings for men and women. She is also considered to be the minority or shareholder of the Atlanta Hawks.
John Maxwell
"A man must be big enough to admit his mistakes, smart enough to profit from them, and strong enough to correct them."
John Maxwell is an author, coach, and speaker.  During 2014, he  was identified as the #1 leader in business by the American Management Association® and the most influential leadership expert in the world by Business Insider and Inc. magazine. His main advocacy is to train business leaders. His leadership philosophy is: "Everything rises and falls on leadership."
Famous Books:
Developing the Leader Within You (1993)
The 21 Irrefutable Laws of Leadership (1998)
The 360 Degree Leader: Developing Your Influence from Anywhere In the Organanization (2005)
The 5 Levels of Leadership (2011)
The 15 Invaluable Laws of Growth (2012)
Websites:
www.johnmaxwell.com
www.johnmaxwellteam.com
www.twitter.com/JohnCMaxwell
Brendon Burchard
"Don't allow yourself to become caustic. You can achieve great things without minimizing others or losing the social graces of empathy, kindness, and respect."
Brendon Burchard is a motivational author on the  use of digital and affiliate marketing to sell "info products" based on whatever expertise his clients have.
Famous Books: 
The student leadership guide(2003)
Life's Golden Ticket (2007)
The Millionaire Messenger: Make A Difference and a Fortune Sharing Your Advice (2011)
The Charge: Activating The 10 Human Drives That Make You Happy (2012)
The Motivation Manifesto (2014)
Websites:
http://brendon.com/
https://www.youtube.com/user/BrendonBurchard
https://www.facebook.com/Brendon-Burchard
These are just the right people you are looking for. People who could motivate you to go your way up to your dreams, that is, having a business of your own. Then, what are you waiting for? Go buy their books or visit their websites, download their audios or watch them on Youtube, and attend their trainings or seminars. Make them as your Inspirational Guide to business.
Who's Your Favorite Business Motivational Speaker? Did we miss anyone?
Feel free to comment below.